Smoke Damage Removal Experts
The blaze is out and things are quieting down. But there's still urgent recovery needs, including technically challenging tasks. Soon it will be difficult if not impossible to completely remove smoke and soot from building surfaces, carpet, furniture, and possessions.
Without immediate fire and smoke damage restoration materials discolor and stain, metals tarnish and corrode, and odors become permanent. That means more losses and more expenses. Even glass is attacked and etched by smoke compounds!
Smoke damage can be just about everywhere and with time critical (even a few hours can make a difference) hiring a professional fire damage restoration company is a top priority. There's simply too much at stake, and too much expertise and equipment required, to risk doing it yourself or hiring an ordinary cleaning company.
Any contractor you hire should be insured and appropriately licensed, but here it's absolutely vital that you only call in specialists certified by oversight organizations in fire and smoke damage restoration. And they should be ready to start work immediately with 24/7 emergency service.
24/7 Immediate Response Smoke Damage Removal Services (877) 535-4360
Cutting Edge Smoke Restoration
We're a full service cleaning and restoration company ready to handle your fire recovery needs. We have IICRC and CRA certified specialists in the broad range of fire damage restoration tasks. Our expertise will reduce your losses as much as possible, and we're ready to help help with the many replace-or-restore decisions. We know what's possible and reasonable, and can put forth the best efforts for personal treasures with outstanding cleaning and repair services. After years of working with just about every major insurer there is we also know exactly how to document losses, what mitigation steps to take and when, and precisely what's expected in estimates and opening an insurance claim.
Our caring staff and experienced crews are on standby 24 hours a day 7 days a week to meet your emergency needs. You can be confident that everything will be done properly and that your life will soon be completely back to normal.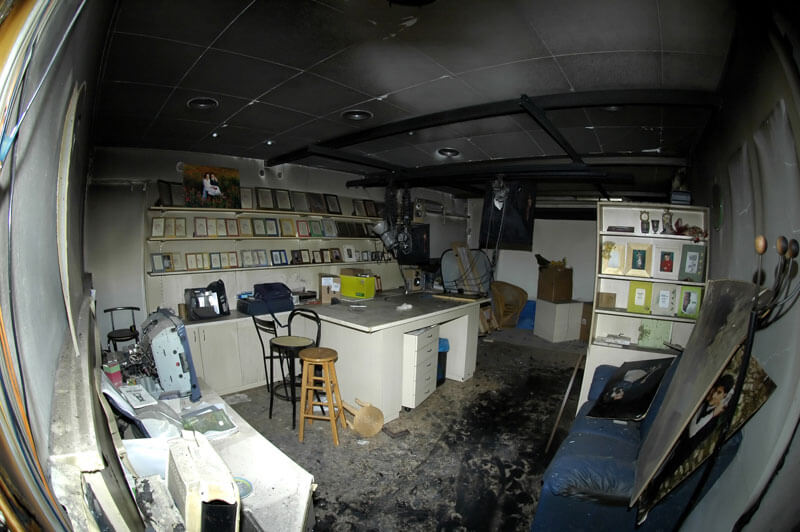 About Smoke Damage
Smoke removal is a major component of the fire restoration process. Every blaze is a bit different, but there are three basic types depending on the combustion temperatures and what's burning — "wet," "dry," and "protein" smoke.  Each contains various combinations of thousands of compounds, hundreds of which are toxic, corrosive, and odor-causing.
When smoke and soot settle, they don't just sit there.  There are chemical reactions, and many of those harmful compounds soak into porous materials such as building surfaces carpet, drapes and blinds, textiles, and wood.  Within hours there will be staining and other discoloration, and without absolutely thorough cleaning there will be additional permanent harm within a couple of days.  That includes those odors that never completely go away.
What's more, smoke can reach just about anywhere in the building (including cooler areas) and often does.  It finds its way into air ducts as well as other places that only experts know to look for.
Smoke Damage Restoration
So thorough and often extensive smoke damage restoration is an absolute must.  Otherwise you'll have to discard more possessions and face much higher repair expenses.  Here are the highlights of our specialty services for fire and smoke damage.
Before smoke removal and other fire damage restoration can begin we provide a thorough inspection and secure the building, completing an inventory with detailed documentation in the process.
Remove unsalvageable items, and isolate unaffected areas of the building.
Completely remove all ash, soot, and smoke with specific-purpose detergents.  Seal building materials where appropriate.
It may be necessary to use equipment such as dry ice or soda blasters to remove char, soot, and smoke from building surfaces.  It may also be best to remove furniture and possessions for improved treatment at our facility.  And absolutely thorough cleaning applies to more than just walls, floors, ceilings, carpet, furniture, and textiles.  Metal fixtures, trim, appliances, and electronics are also harmed by smoke's acidic compounds.  Aluminum, brass, and chrome are particularly susceptible, as are marble, unsealed granite, and porcelain.  Smoke also makes its way into computers and entertainment systems along with other electronics and appliances so that they also require immediate treatment.
Need Smoke Damage Removal Services? Call The Experts Today (877) 535-4360
Additional Recovery Services
Fire damage and the need for mitigation can be extensive and require a wide range of special training and skills.  Our crews also include technicians certified in various areas of water damage restoration, mold remediation, and odor removal.  So we're a single company that can take care of all of your fire & smoke damage needs.  With a single point of contact and a single responsible party you'll save time and worry.
We Will Work With Your Insurance