Chula Vista's Best Fire Damage Company 24/7 Fast Response (877) 535-4360
Expert Chula Vista Fire Damage Restoration
Need fire damage restoration services in Chula Vista, California?  You need specialists in fire damage repairs, smoke and odor removal, and fire damage reconstruction — not just any general contractor or cleaning company.  A small fire can have a big impact.  It's discouraging enough just looking over the scene, but there's more than the visible destruction by flames.  There's only a 1 to 2 day window to prevent permanent staining and odors along with mold and other water damage.  Immediate professional restoration meets insurance mitigation requirements, recovers more of your treasured possessions, reduces overall fire damage removal costs, and gets your life back to normal much sooner.
We're ready 24/7 and can be at your Chula Vista property within the hour with expert knowledge and specialized equipment to restore your home or business.
TIP:  Avoid entering damaged areas if at all possible.  Just walking is likely to harm carpet, and you'll be exposing yourself to toxins and safety hazards.  Our crews can retrieve any items you need.
24/7 Immediate Response Fire Damage Restoration Services (877) 535-4360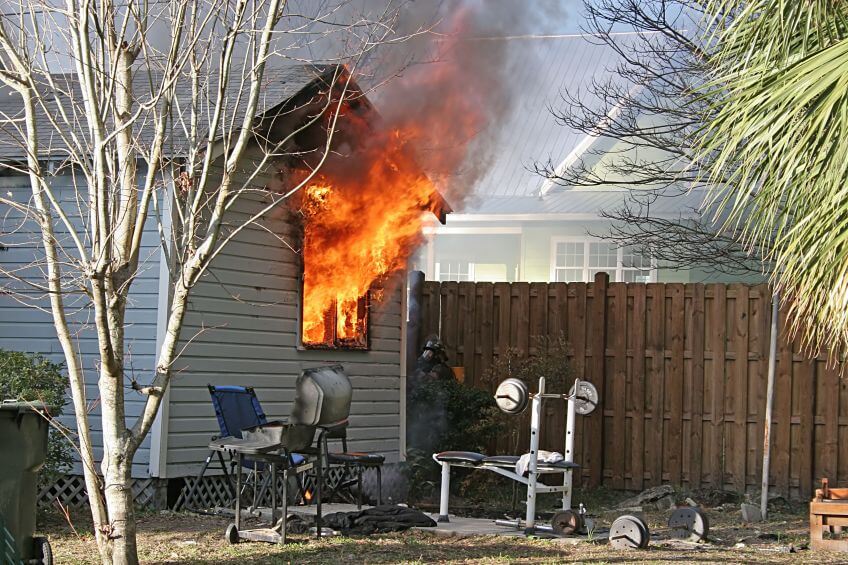 Fire Damage Restoration in Chula Vista
Proper fire damage removal requires a host of experts, not just repairmen and construction crews.  Hidden damage can pose serious safety risks, the air and surface residues are filled with toxins and corrosive compounds, and left untreated firefighting water soon leads to mold and further destruction.
After assuring safety for our workers and any remaining building occupants, our goal is to minimize further fire and smoke damage as well as water damage before moving on to fire restoration tasks.  We tailor our fire services to each specific situation, but here is a brief outline of the typical phases of our fire damage restoration process.
One of our certified inspectors evaluates structural, water, and smoke issues to create a detailed plan of attack.  More than just carpet, fabrics, and wood remain at risk.  Given just a few days soot and smoke damage metal and even glass objects.
Crews provide any necessary structural reinforcement and secures building openings with tarp overs and board ups.  We also take care of debris cleanup and haul away.
Specialists pack out furniture and other possessions to our secure and clean facility near Chula Vista for treatment and storage.
Technicians use high-performance equipment for water extraction and structural dry out, fast and thorough smoke removal, and thorough permanent odor removal.
Skilled crews complete fire damage repairs along with any needed demolition and fire damage reconstruction.
Meanwhile, our staff has been in contact with your insurance company submitting reports and estimates, including a detailed inventory of damaged and undamaged items for the building and its contents.  You'll receive copies, including the trackable inventory for items packed out to our facility.
Damage Removal
Our experts take care of everything — your possessions as well as the building itself.  We'll "triage" building contents into undamaged, recoverable, and unsalvageable categories and make sure that your insurer and their local adjuster are satisfied before final haul away.
Fire Damage Reconstruction
As a licensed general contractor familiar with Chula Vista building codes and permits we can provide demolition and fire damage repair and reconstruction services for destroyed parts of your home or business.  That includes all building trades (such as carpenters, cabinetry, plumbing, electrical, roofers, and so on) as might be necessary for any room, including kitchens and baths.
Chula Vista Smoke Damage Restoration
Smoke damage typically extends well beyond the location of the blaze itself, often finding its way into building cavities and other unexpected places.  Different kinds of fires create different kinds of smoke, but all smoke and soot contain literally hundreds of harmful compounds.  Some are toxic, some stain and discolor, and some just plain smell.  Our certified smoke damage specialists select detergents specific to the type of smoke and item to be cleaned for thorough results without further harm.
Besides porous materials, metallic items such as fixtures, building hardware, appliances, and electronics also need expert cleaning.  Marble and unsealed granite are also especially vulnerable.  And given just a few days even porcelain and glass can become etched.  For building surfaces we'll deploy dry-ice and/or soda blasters to efficiently and thoroughly remove char, soot, and smoke.
TIP:  Don't move smoke damaged furniture yourself.  That usually forces smoke and soot in deeper making it harder, or even impossible to clean.  And improper cleaning can in some cases make matters worse.
Odor Removal
Given just a few days smoke residues penetrate into porous materials such as wood and drywall deeply enough that they can no longer be removed.  That's the cause of those long-lasting fire odors.  Our first step is setting up HEPA filters to clear the air and minimize those buildups.  That also helps keep our workers and building occupants safe.
The next step of our odor removal process is soot and smoke removal to prevent long-lasting odors.  But there are places smoke can reach that our cleaning technicians can't.  For that we have odor neutralizing equipment such as ozone generators.  We may also use injectable disinfectants for bacterial odors, and can provide dry cleaning and other treatments for upholstered furniture, drapes, and so on.
Need Fire Damage Restoration Services? Call The Experts Today (877) 535-4360
Choose The Cutting Edge
We're a family business, independently owned and operated and ready to take care of all of your Chula Vista fire and smoke damage recovery needs.  That's start to finish, carpet cleaning to complete reconstruction.  Cutting Edge maintains a California Contractors State License (there's no licensing specific to fire damage removal) along with commercial auto, liability, and worker's compensation insurance.  And we have the highest rating, A+, from the Better Business Bureau (BBB).
Our teamwork focuses around our IICRC (http://www.iicrc.org/consumers/care/fire-smoke-restoration/) and CRA (http://www.crassociation.org/) certified technicians in their numerous areas of specialization in fire and water damage, backed by the latest cutting-edge equipment.
Our staff experts will work closely with your insurance company, using the experience of our long-term working relationships to smooth the path for your fire damage restoration insurance claims processing.  And of course we'll meet their mitigation requirements for coverage and provide timely detailed documentation in a format they're familiar with.
We Will Work With Your Insurance