San Diego County's Best Fire Damage Company 24/7 Fast Response (877) 535-4360
Expert Fire Damage Restoration Services
Even a relatively small home or business fire can have a tremendous emotional impact, often underestimated until you've experienced it yourself.
So it may come as a relief to learn that there's very little fire damage restoration that you should do yourself.  Do to the large degree of special expertise required it's best to have all fire restoration performed by professionals. Without proper training and protection remediating a fire loss brings unnecessary health and safety risks, and you face greater losses from secondary harm such as smoke damage and water damage.
After a fire, you should select the services of a licensed and insured contractor, with certifications in fire damage repair and clean up. A wide range of skills and equipment is called for, so the right choice should be able to meet all needs so that you won't be dealing with a multitude of different companies during a difficult time.
For better or worse, you need to choose a company quickly.  There is a brief 24 to 48-hour window to effectively deal with issues such as firefighting water, dry-chemical extinguisher residue, and smoke before they lead to further deterioration that insurance won't cover because it was preventable. So you also need a company with 24/7 emergency service and a quick response.
24/7 Immediate Response Fire Damage Restoration Services (877) 535-4360
Choose Cutting Edge Restoration
We're a full-service cleaning and restoration company ready to handle your fire recovery needs. We have IICRC and CRA certified specialists in the broad range of fire damage restoration tasks.
Our expertise will reduce your losses as much as possible, and we're ready to help with the many replace-or-restore decisions.  We know what's possible and reasonable and can put forth the best efforts for personal treasures with outstanding cleaning and repair services.
After years of working with just about every major insurer, there is we also know exactly how to document losses, what mitigation steps to take and when, and precisely what's expected in estimates and opening an insurance claim.
Our caring staff and experienced crews are on standby 24 hours a day 7 days a week to meet your emergency needs.  You can be confident that everything will be done properly and that your life will soon be completely back to normal.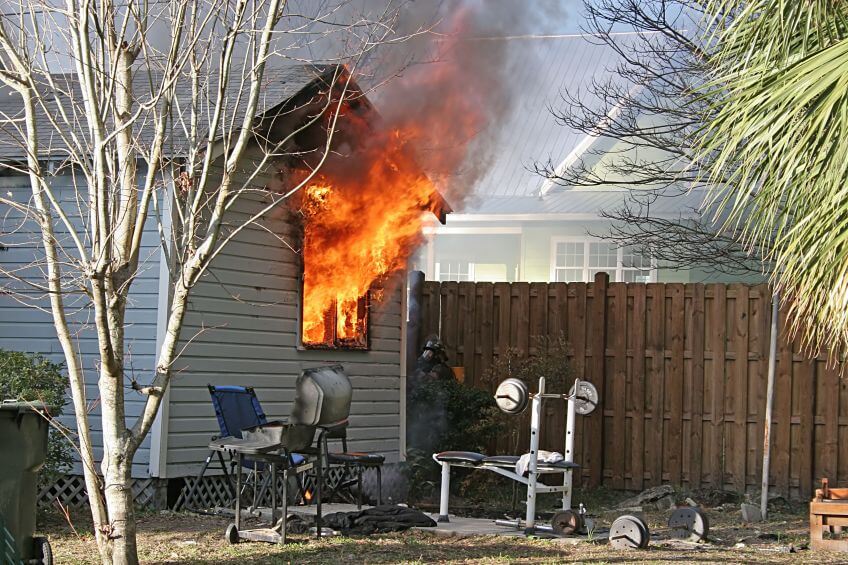 Fire Damage Removal
After the blaze is out there's still very urgent work to be done.  After just a few hours various compounds in smoke, soot, and ash will have stained and discolored appliance and fixture finishes, fiberglass tubs and showers, Formica counter tops, and more.
Water damage and mold outbreaks often occur in as little as a day and in a few days metal fixtures, fittings, and possessions can be pitted by corrosive residues.
After a few weeks, even glass and china are harmed by contaminants, plus wood will warp and split, and drywall will fall apart due to any remaining moisture.
So our well-trained crews move into action immediately with procedures as outlined below.  Each item incorporates numerous technical details and the steps may actually overlap or be repeated at several stages.
Inspection and assessment, starting within an hour.
Sorting unharmed, salvageable, and unsalvageable items with a detailed inventory and full documentation for your records and insurance claims.
Prompt structural reinforcement, board-overs (for windows, doors, and walls), and tarps for roof damage.
Isolation of unaffected areas from contaminated areas.
Debris cleanup.
Extensive cleaning with specialized cleaners and procedures.
Repairs and other restoration of the building as well as its contents.
Haul away with proper disposal of toxic burned materials and other hazardous wastes.
Need Fire Damage Restoration Services? Call The Experts Today (877) 535-4360
Additional Fire Restoration Services
Beyond repairs, demolition and reconstruction are often the most effective way to deal with extensive destruction.  Even small blazes are likely to need additional services as well.
Smoke Damage and Odor Removal Our specialized cleaning focuses on soot and smoke removal to avoid further harm from countless toxic, acidic, and odor-causing compounds that have likely spread even to distant parts of the structure.  That's a priority as without immediate proper and thorough cleaning fire smells can become essentially permanent. We can also perform odor removal throughout the entire building.
Water Damage Even if you don't see pooled or pockets water, it will have have soaked in and penetrated deeply into the structure where it will provide a breeding ground for disease and decay organisms.  If ignored even excess moisture can linger for weeks causing further destruction.  Paneling delaminates and structural framing splits and warps.  Dry wall and other materials can completely crumble. Our experts armed with the latest in water extraction and structural dry out equipment can prevent that by completing drying in a few days rather than the weeks and weeks that nature would take.
Mold Remediation If smoldering remains or safety issues delay water removal mold can become a major issue.  Our licensed specialists are ready for safe and thorough mold removal.
Pack Out Fire restoration includes your furniture and other possessions as well.  Frequently it's best to remove them from the scene, protecting unharmed belongings from contamination and allowing us to better treat salvageable items at our facility.  Along with a detailed inventory we'll provide secure storage and then return everything.
We Will Work With Your Insurance