Carlsbad's Best Fire Damage Company 24/7 Fast Response (877) 535-4360
Carlsbad Fire Damage Restoration Pros
Had a fire at your Carlsbad California home or business?  Even though you're likely feeling overwhelmed there are many things that need to be done in the first 24 to 48 hours after a blaze.  You can't tackle everything yourself, and you shouldn't.  Proper fire damage restoration requires far more than cleanup and construction skills.  Fire damage removal involves a great number of special skills and almost always calls for unique equipment.  Without all that, water and smoke damage will continue to progress day after day making fire damage repairs all the more expensive.  For everything from emergency cleaning to odor removal and fire damage reconstruction you can count on us to be there promptly, 24/7/365, to minimize your losses and then return everything to pre-loss condition.
24/7 Immediate Response Fire Damage Restoration Services (877) 535-4360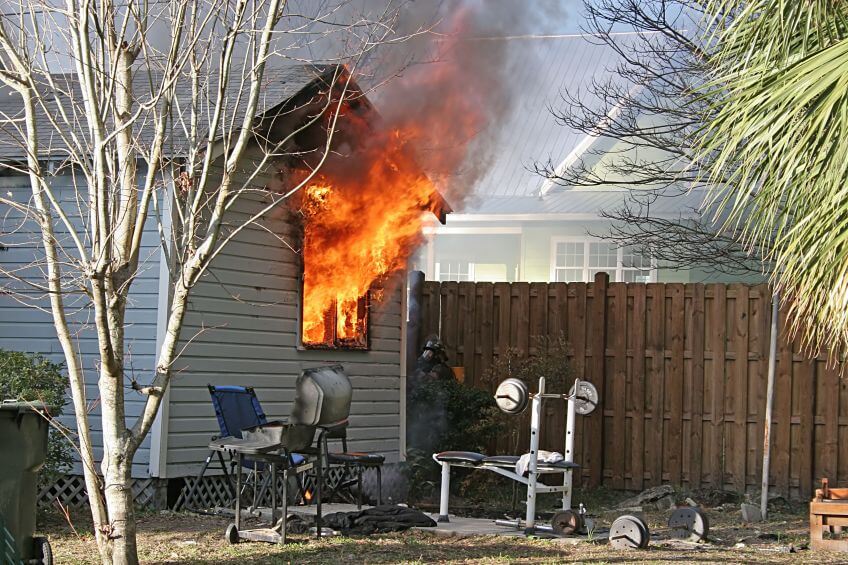 Fire and Smoke Damage
Destruction can continue days, and even weeks, after the flames are out for two main reasons.
The first is smoke damage.  That goes beyond the build-up, discoloration, and staining you can see almost immediately.  Soot and smoke contain hundreds of harmful compounds, including those that are toxic, corrosive, and odor-causing.  Without immediate and thorough cleaning they soon tarnish or corrode just about anything metal (including the insides of electronics and appliance) and even etch glass.  In just a few days other compounds penetrate so deeply that odor removal becomes impossible.
The second reason is progressive, and often hidden, water damage.  With sprinklers and  firefighting it's likely that much of the building has been thoroughly soaked.  Without expert drying, harmful levels of moisture linger for weeks, no matter what the Carlsbad weather, and continue to destroy drywall, warp wood, and promote the growth of mold and bacteria.
Without specialized fire damage restoration training and experience, efforts at cleaning and drying are likely to make matters worse, or at best delay proper action until fire damage repair costs have already grown to far more than they should have been.  So you want fire damage removal experts — a properly licensed contractor with certified specialists and unique equipment such as dry-ice blasting gear, ozone generators, and commercial-grade dehumidifiers.
Choose Cutting Edge
We're a single company that can take care of all of your fire damage restoration needs in Carlsbad.  Independently owned and operated our 24/7 emergency fire restoration services and fire damage reconstruction services cover commercial as well as residential buildings along with their contents.
We hold a California State Contractors License (there's no specific licensing for fire services) and our crews include formally trained technicians certified by the IICRC (the international non-profit leader) and the CRA.  Our company carries full coverage for workers comp, commercial vehicles, and commercial liability.  And we maintain a large inventory of cutting edge cleaning, drying, and odor removal equipment.  With a top A+ rating from the BBB you can count on us to fully restore your home or business to your complete satisfaction.
Need Fire Damage Restoration Services? Call The Experts Today (877) 535-4360
Our Carlsbad Fire Damage Restoration Services
The fire damage restoration process proceeds through several technically challenging and often hazardous stages.  But throughout, our priorities are:  the safety of our clients and our employees, mitigation against further deterioration and unnecessary expenses, and quality repairs and reconstruction.
Fire Damage Removal Stages
Our certified inspector assesses structural and other damage along with smoke and water mitigation needs
Structural shoring, tarp overs, board ups, and debris removal to secure the building
Isolate occupied portions of the building, set up air purification
Pack out furniture and other belongs for expert off-site cleaning, drying, and deodorizing treatments
Emergency cleaning and disinfection
Smoke removal through expert cleaning, and dry-ice blasting or soda-blasting
Water damage mitigation through surface water extraction and dehumidification for structural drying
Smoke odor removal building-wide through ozone generators
All along the way we'll keep you informed and create the detailed inventories and documentation necessary for insurance claims processing and your peace of mind.
Fire Damage Repair
Our skilled and experienced repair crews can take care of whatever fire damage repairs you might need, from carpet and upholstery cleaning to patching floors, walls, ceilings, and roofs.
Fire Damage Reconstruction
As a general contractor we can also provide demolition and fire damage reconstruction for heavily damaged areas.  Our crews cover all the building trades so we can manage whatever you might need including carpentry, cabinetry, roofing, mechanical (plumbing and HVAC — heating, ventilation and air-conditioning), and electrical.  Always one step ahead, we'll expedite any required Carlsbad building permits.
We Will Work With Your Insurance
You need to immediately notify your insurance company of the loss, but we can take it from there to spare you the time and hassle.  Starting with inspection reports and estimates to open your insurance claim, we'll work directly with your insurer and their Carlsbad agents.  Our knowledgeable and experienced staff has built lasting working relationships for fast, smooth claims processing.  We'll bill your insurance company directly, so there's no up-front payment for you.